Need assistance logging into Wishlist? We are here to help!
Log-in issues can be boiled down to 1 of 4 issues. We will dive into each issue and walk you through how to solve each one below.
Password Issues
This is the most common culprit for log-in issues. If you can't remember your password, or it simply isn't working, we recommend resetting the password. Here's how to reset your password.
Navigate to the log-in page
Enter your email address and click "Continue"
Click "Forgot Password". Note, the Password box must be empty in order for the "Forgot Password" link to be visible.
A pop-up will appear. Enter your email address and click "Submit"
An email will be sent to you. Follow the instructions in the email to finish your password reset. If you don't see the email shortly, please check your spam and promotions folders.
Two-Factor Issues
All users, unless you log in through an SSO Provider, require a two-factor authorization code to log in.
When you created an account, you were required to select 1 of 2 authentication methods.
SMS Authorization - a text with the code is sent to your phone
Authenticator App - the code is accessed through an app on your phone
One of the most common issues is forgetting which method of authentication you signed up for. Can't find your authentication code?
Reach out to support@enjoywishlist.com and our team will let you know what authentication method you used
Still can't find your code? Let our support team know and we can reset your account so that you can set up your authentication again!
IP Issues
Our product is constantly monitoring the IP addresses that access our platform to ensure the most secure experience for our users. If our product doesn't recognize your IP address, it may request that you verify it is in fact you attempting to log in. When this happens, you'll see a message similar to this.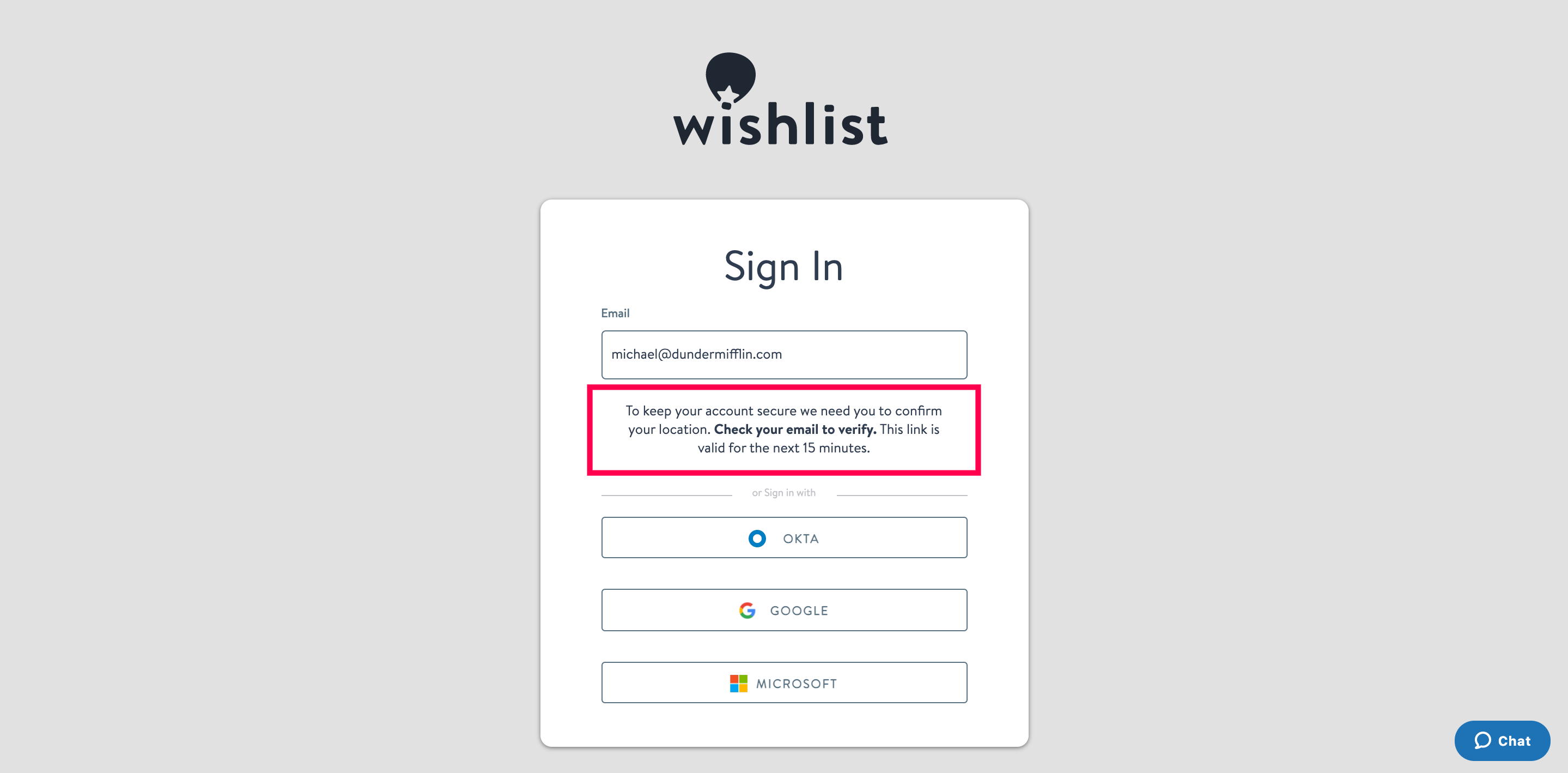 When you see this message, follow these instructions
Go to your email and look for an email with the subject line "Please Verify Your Location!"
Open the email and click the purple button that says "Verify and Login"
You will be redirected to the login screen and can now log in as normal!
Browser Issues
We are regularly performing updates to our product to make it better for you to use! This can cause some issues when logging in and may require a browser refresh to clear out the cache and cookies.
If you are unsure of how to do this, use the link below to view steps on how to perform this action on all popular web browsers. The site will also explain why a hard refresh is needed.
While logged into our portal, perform a hard refresh on your web browser.

It will reload and you will be able to log in!
Still experiencing trouble logging in?
Reach out to support@enjoywishlist.com and we'll help resolve the issue!